L-Glutamine Muscle Recovery
About Time L-Glutamine Powder is a single ingredient, free-form, non-essential, amino acid and is the highest grade available. Glutamine is considered to be an essential amino acid. Under certain circumstances, the body might require more glutamine than it can produce. In the body, glutamine functions as a major nitrogen transporter and is critical for the maintenance of healthy nitrogen balance. Glutamine also acts as the primary fuel for the rapidly growing cells of the immune system and GI tract.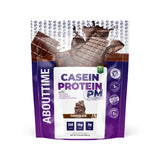 Description
Whether your goal is to increase athletic performance, boost metabolism, improve recovery or even build muscle, research shows that L-glutamine is a must-have supplement. During an intense workout, your body becomes stressed and your muscles and tendons require more glutamine than the amount supplied by a normal diet. So, after an intense workout the levels of cellular glutamine can drop by 50 percent and plasma levels by 30 percent! This muscle-wasting state is a gateway for the body to use your muscle for energy rather than carbohydrates. But glutamine can prevent this from happening. Supplementing with L-glutamine allows your muscles to fight and push a bit further, which boosts your strength and helps repair your skeletal muscles.
A study found that L-Glutamine supplementation makes it possible to recover quicker from intense weight training sessions because it improves muscle hydration. This aids the muscle recovery process and reduces recovery time for wounds and burns. Replenishing glutamine levels after an intense session could take up to five days, so it is important to take it on a regular basis if you are doing intense exercise. Even though L-Glutamine is a very important part of a bodybuilders' supplementation, L-Glutamine isn't only for bodybuilders. Glutamine is essential for maintaining intestinal function and aiding in the immune response as well. After glutamine is synthesized in skeletal muscle it is released into the bloodstream and transported to the kidney, liver and small intestine and cells of the immune system where it plays another vital role. Glutamine is used by white blood cells and contributes to normal immune-system function.
Individuals with muscle-wasting and immune-system related illnesses (such as cancer or AIDS) who may be incapable of manufacturing their own supply of glutamine may benefit from glutamine supplements taken along with other amino acids. Becoming ill or losing lean muscle mass are potential signs of glutamine deficiency.
So, are you convinced yet? Not only is Glutamine important for bodybuilders to help prevent metabolism, it's also important for regular folks with all the benefits it provides, and no side effects. So, what are you waiting for?
Product Details
Click To View Label
When Should I Take AboutTime L-Glutamine?
Mix 1 level scoop to 8oz of water, or beverage of your choice.
Join The Conversation
.spr-icon { color: #fba221; } a.spr-icon:hover { color: #64410d; }.spr-container { padding: 0px; border-color: #ffffff;border: none;} .spr-review, .spr-form { border-color: #ececec; }
Customers Pair This Product With